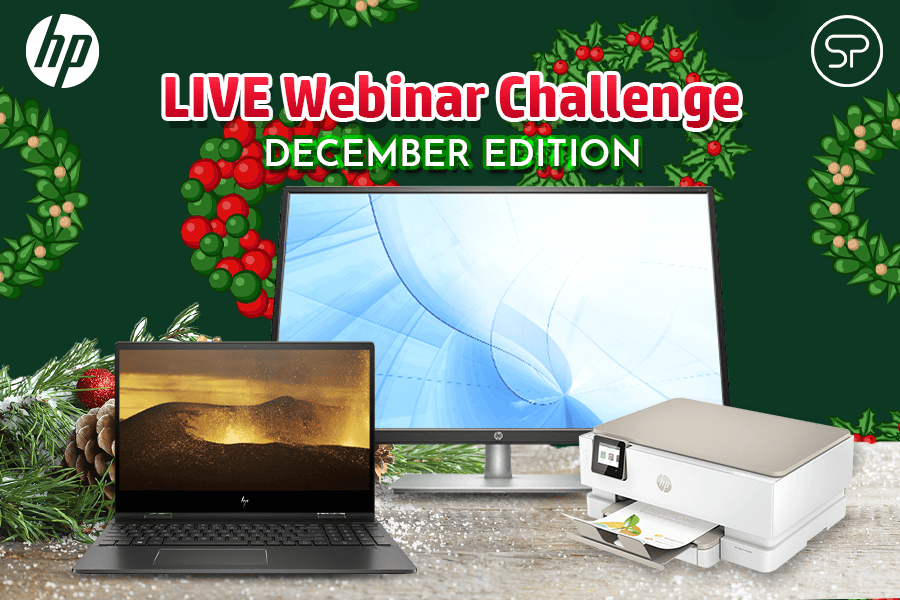 HP Live Webinar Challenge: December Edition
Giving is better than receiving, and HP is giving major opportunities to earn BIG! During December, join the HP Live Webinar Challenge for an opportunity to earn an HP printer, laptop, or monitor in the PlayZone. Let's go over the details.
Dates: 12/1/22 – 12/31/22
Courses:
Live Expert Webinars – Dec 2022
HP 24/27 All-in-One Desktop PC
Events: Attend four (4) HP events during the campaign duration to qualify. We recommend attending at least one (1) HP event weekly.
Event awards:
By attending HP webinars weekly, you have the opportunity to earn the following webinar rewards:
$30 HP Computer Rebate
$50 HP Computer Rebate
$100 HP Computer Rebate
$30 HP Printer Rebate
$50 HP Printer Rebate
$100 HP Printer Rebate
$25 Fandango
$20 Barnes & Noble
$20 Domino's
$20 Starbucks
Campaign award in PlayZone:
Choose one of the following:
HP ENVY Inspire 7255e Wireless Inkjet Photo Printer
ENVY x360 Laptop
HP 32-inch Monitor
BONUS: At the end of the campaign, up to 150 attendees will be randomly drawn from eligible stores and earn a $20 Starbucks reward. What's an eligible store? Stores with at least five (5) attendees at HP live webinars during the month.
Please note: Courses and live webinars are available for the specific retailers to which the brand has exposed its content. If you aren't seeing them, it means the courses and/or webinars are not available to your retailer. Additionally, a SellPro account is required for live webinar award eligibility.