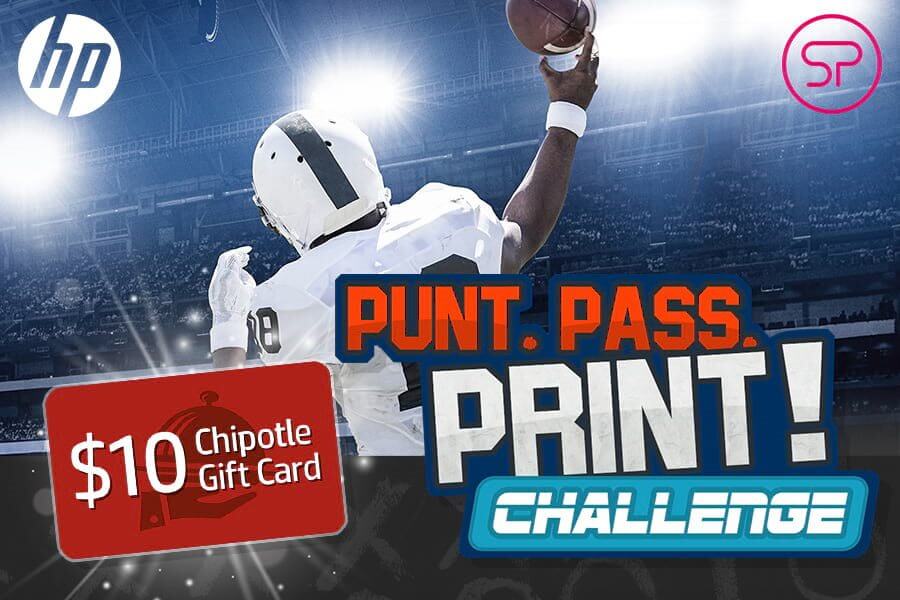 HP Punt. Pass. Print! Challenge
We don't always scream at the TV, but when we do…it's football season!
Make sure you get in the end zone (or PlayZone, that is) with the "HP Punt.Pass.Print! Challenge."
Complete the Challenge courses and you will unlock three awesome awards in the PlayZone, including a $10 Chipotle reward, a $50 off printing rebate, and a $100 off printing rebate.
Start stretching, get your pads on, and dig into your playbook (or your SellPro app) because kickoff is this Thursday, August 30th!
Here's the play-by-play:
Courses:
1. LaserJet Pro MFP m29w Hands On
2. Power of Print: Reinvent Joy
3. Print Relevance for Millennials Sprocket
4. Print Relevance for Millennials: Print
Awards:
$10 Chipotle reward
$100 Off Printing Rebate
50 Off Printing Rebate