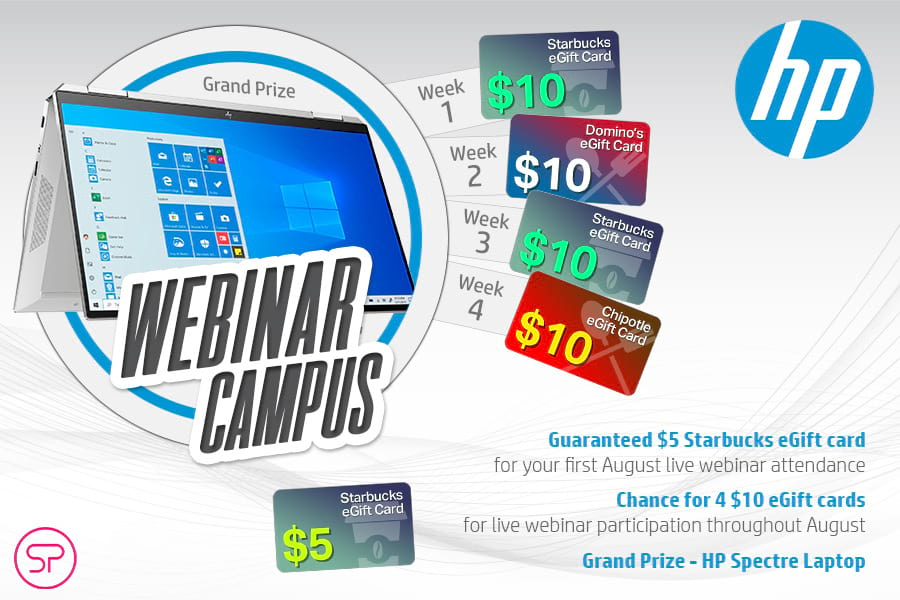 HP Webinar Campus offers you a learning-filled month of events and awards!! Flex your scholastic muscle by attending HP virtual events and learning from live experts. End the summer with a blast and go to the head of the class. Check out the details below.
Dates: 8/1/20 – 8/31/20
The first time any user attends an HP live webinar in August a $5 Starbucks award will be earned! Be sure to register for your spot in-app because seats are limited to 200 attendees per webinar.
Attend webinars weekly for a chance to earn a $10 award from Starbucks, Domino's and Chipotle. You can earn one $10 award per week, and the winners will be announced during the webinar.
Week 1 (8/2 - 8/9) – $10 Starbucks award
Week 2 (8/10 - 8/16) – $10 Domino's award
Week 3 (8/17 - 8/23) – $10 Starbucks award
Week 4 (8/24 - 8/31) – $10 Chipotle award
For the overachievers: attend 20 unique live webinar topics during August to be eligible to win an HP Spectre Laptop! For event dates and time, check the SellPro app. HP has webinars multiple times a day and over the weekends. We will pull THREE random winners during the week of 8/31. The full list of webinar topics is below.
HP All-in-One PC Lineup
HP and the Environment
HP Bundle Printers
HP Chromebooks
HP Claiming Prizes
HP DeskJet and DeskJet Plus Printers
HP Desktop PC Lineup
HP ENVY and ENVY Pro Printers
HP ENVY Notebooks
HP ENVY Photo Printers
HP Instant Ink
HP LaserJet Pro Printers
HP Media Solutions
HP Neverstop Laser Printers
HP Notebook PC Lineup
HP Notebooks
HP OfficeJet Pro Printers
HP OMEN Gaming Accessories
HP OMEN Gaming Desktops
HP OMEN Gaming Notebooks
HP Original Supplies
HP PageWide Pro Printers
HP Pavilion Gaming Desktops
HP Pavilion Gaming Notebooks
HP Pavilion Notebooks
HP PC Differentiators
HP PlayZone Tips and Tricks
HP Printer Differentiators
HP Printing Projects: July
HP Smart App
HP Smart Tank Printers
HP Smart Tasks
HP Spectre Notebooks
HP Sprocket Printers
HP Stream Notebooks
HP Tango Printers
HPinfolab Tools
Upgrading to Modern HP PCs
Windows Inking with HP
Please note: Courses and live webinars are available for the specific retailers to which the brand has exposed its content. If you aren't seeing them, it means the courses and/or webinars are not available to your retailer. Additionally, a SellPro account is required for live webinar award eligibility.