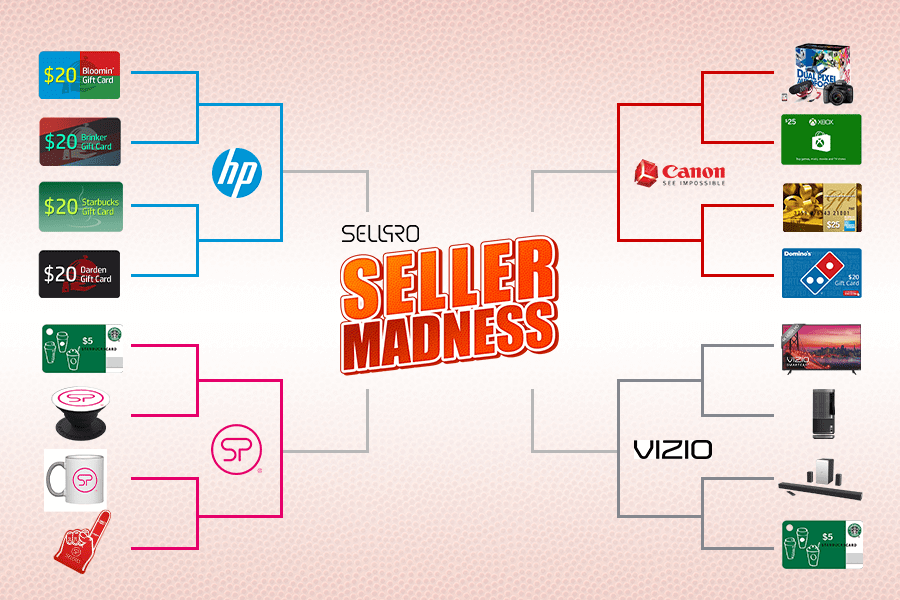 March Madness = Seller Madness
The NCAA Tournament starts this week, so we thought it would be fun to have a little "madness" of our own. This week, HP, VIZIO, Canon, and SellPro will be doing a little bracket-busting in the PlayZone. On Wednesday and Thursday of this week, YOU will have the opportunity to vote on the awards that YOU want to play for in a bracket-style contest. Your votes will determine the awards that ultimately end up in the PlayZone for our Seller Madness blitz. Once the Final Four awards have been declared, those awards will be released in the PlayZone this Friday.

Check out the blog to see the courses you'll need to certify on and the awards you'll be voting for. Seller Madness tips off tomorrow!
*Disclaimer: Although voting will be open to the entire SellPro universe, content is retailer-specific and not all users will have access to all brands/award
HP
Awards:
$20 Bloomin' Brand codes, qty 100
$20 Brinker codes, qty 100
$20 Darden codes, qty 100
$20 Starbucks codes, qty 100
Courses:
LaserJet Pro Printers for SMB
TSI: Toner Science Investigation
Color LaserJet Pro MFP M180nw
Color LaserJet Pro M254dw
Color LaserJet Pro MFP M281fdw
Printing Fundamentals 101
Printing Fundamentals 201
Printing Fundamentals 301
Canon
Awards:
EOS Rebel T7i Video Creator Kit, qty 5
$25 XBOX Gift Card, qty 40
$20 Dominos Gift Card, qty 40
$25 AMEX Gift Card, qty 50
Courses:
INKredible Canon
You Got This! SELPHY CP1300
You Got This! PIXMA TS9120
You Got This! PIXMA TR 8520
VIZIO
Awards:
$5 Starbucks Gift Cards, qty 240
VIZIO E-Series 48" HDTV, qty 2
VIZIO SmartCast 36" Soundbar, qty 5
VIZIO Crave 360, qty 5
Courses:
Alexa Voice Control
Google Assistant Voice Control
VIZIO P-Series Displays
SellPro
Awards:
$5 Starbucks Gift Card, qty 50
SellPro Coffee Mug, qty 5
SellPro Foam Finger, qty 5
SellPro Pop-Socket, qty 5
Courses:
SellPro March Madness Quiz