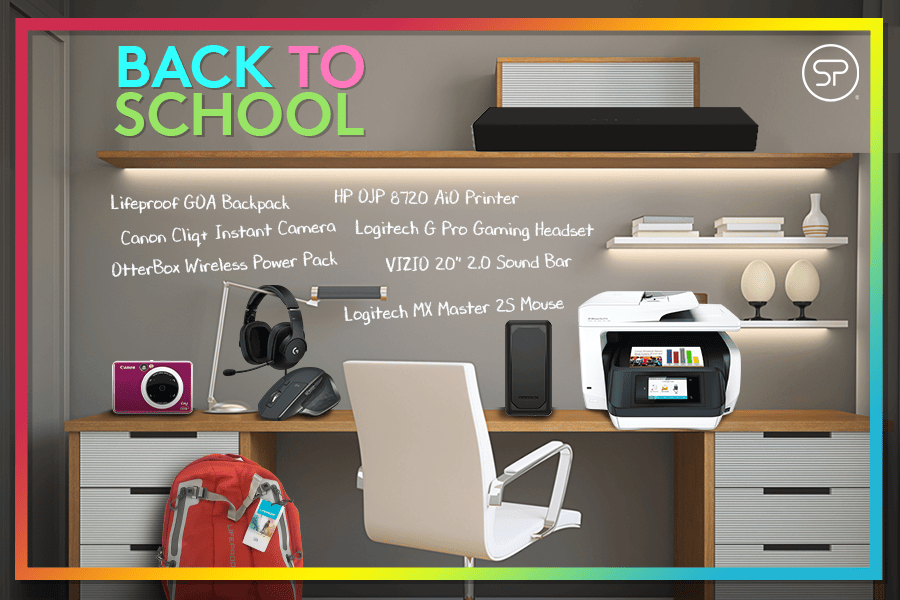 SellPro Back to School Campaign
Aren't you excited for back-to-school season?! YES! And to really amp it up, we have some EXCITING awards lined up for you – the latest gadgets. Don't come to class unprepared for the SellPro Back-to-School campaign. Do your homework by certifying on courses from Canon, HP, LifeProof, Logitech, Logitech G, OtterBox and VIZIO. A grand prize bundle will be awarded to 10 users.

So, what's in this fantastic bundle? Let's go over the details first. Please remember to take notes!
Date:
9/4 at 10 am PT – 9/6 at 3 pm PT (10 winners selected on 9/6 at 3 pm PT)
Here's how to participate:
Starting Tuesday, 9/4 at 10 am PT, in the SellPro app, head to "Courses."
Look for all the courses listed below.
Certify on ALL the required courses (you'll have until Friday, 9/6 at 3 pm PT to complete all courses).
On Friday, 9/6 at 3 pm PT, 10 randomly chosen users will be awarded with the grand prize bundle.
Courses: all courses mentioned below need to be completed to qualify for the grand prize bundle.
Canon:
The IVY Family
The PIXMA TS6320: Back to School
HP:
OfficeJet Pro 8000: Smart Tasks Demo
OJ Pro 8035-Print From, Scan to USB Demo
LifeProof:
Logitech:
Logitech MX Vertical Mouse
Logitech MX Ergo Mouse
Logitech G:
Logitech G - Pro and Pro X Headset
OtterBox:
OtterBox Brand Story Part 1
OtterBox Brand Story Part 2
VIZIO:
VIZIO Sound Bars with Dolby Atmos®
Tom's Guide: 2019 M-Series Quantum
Grand Prize Bundle:
Each bundle will include the seven (7) products listed below.
Canon Cliq+ Instant Camera
HP OfficeJet Pro 8720 AiO Printer
LifeProof GOA Backpack
Logitech MX Master 2S Mouse
Logitech G Pro Gaming Headset
OtterBox Wireless Power Pack
VIZIO 20" 2.0 Sound Bar
Now that's how you go back to school! Class dismissed.
Please note: This promotion is US only. The courses listed above are viewable by all US retailers only during the duration of the campaign. Please contact sellpro.net if the courses are not viewable to your retailer.