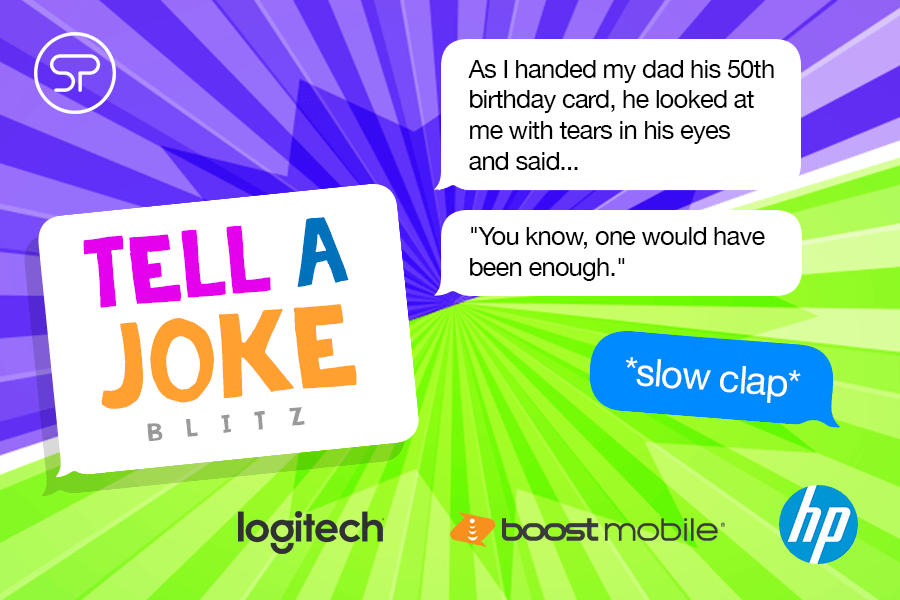 It's National Tell a Joke Day so we're celebrating in the PlayZone! Join our Tell a Joke Blitz with awards from HP, Logitech and Boost Mobile! If you feel like sharing your own joke, pun, or one-liner then share it in the forum in the Tell a Joke Blitz course. The three top-rated jokes will earn a $20 Domino's eGift card for making us all chuckle. Let's go over the details.
Dates: 8/16/22 – 8/21/22
To unlock the awards in the PlayZone, complete the following tasks from each brand:
Boost Mobile
Courses:
Boost Mobile - Samsung Galaxy A03s
Boost Mobile - Limited Time $5/month
Award: $10 Starbucks eGift card

HP
Courses:
Instant Ink & HP+ for SMB
LaserJet Pro 4001e & 4101e Printers
Award: $10 Cold Stone Creamery Reward

Logitech
Courses:
MX Series
iPad Keyboard Cases & Accessories
POP Series
Award: Wonderboom 2
BONUS: If you like telling jokes, head to the course in SellPro called "Tell a Joke Blitz" to share your own joke in the forum. The three people with the highest-voted jokes will win a $20 Domino's eGift card. We'll tally up the winners at the end of the blitz.

Please note: These awards are live in the PlayZone for the specific retailers to which the brand has exposed its courses. If you aren't seeing it, it means the award is not available to your retailer. Additionally, a SellPro account is required for live webinar award eligibility.