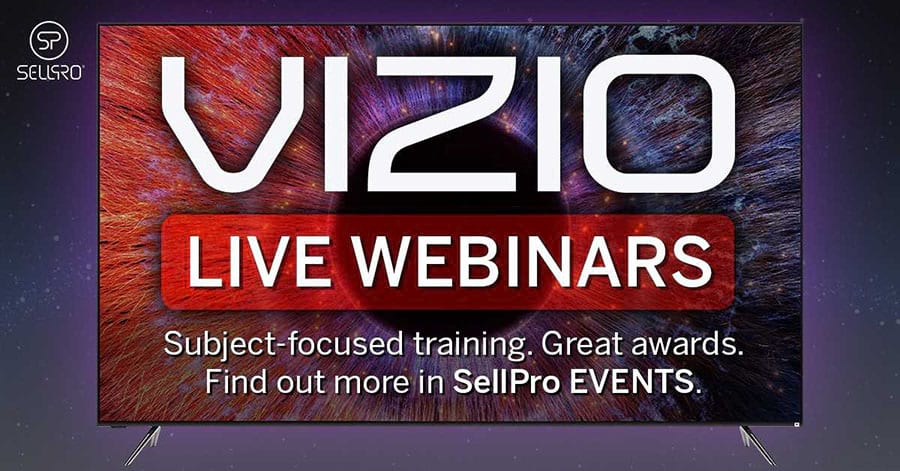 VIZIO Live Webinars - April 2019
15 minutes can earn you a Starbucks gift card and pizza feast for your store! Join a VIZIO expert for a 15-minute webinar packed with useful tips to drive your VIZIO sales. Share with your coworkers, as the top-attending store will receive a pizza party.
Check out the schedule below and register beforehand.
Thursday, April 18 – 10 AM PT, 12 PM PT
Friday, April 19 – 10 AM PT, 12 PM PT
Monday, April 22 – 10 AM PT, 12 PM PT
Wednesday, April 24 – 10 AM PT, 12 PM PT
Friday, April 26 – 10 AM PT, 12 PM PT
DISCLAIMER: one (1) award per unique user for the ten-event series of the VIZIO Live Webinars; users are selected randomly from all attendees of each event. The pizza-party-winning store will be selected from all participating locations, based on the total number of unique SellPro-registered users who attended any VIZIO Live Webinars in the "VIZIO 4K Smart TV Lineup" ten-event series and who are actively employed at that location. Pizza, snacks, and soda drinks will be delivered to the winning store, courtesy of VIZIO, within four (4) calendar weeks from the completion of the last event in the series. No alcoholic beverages.