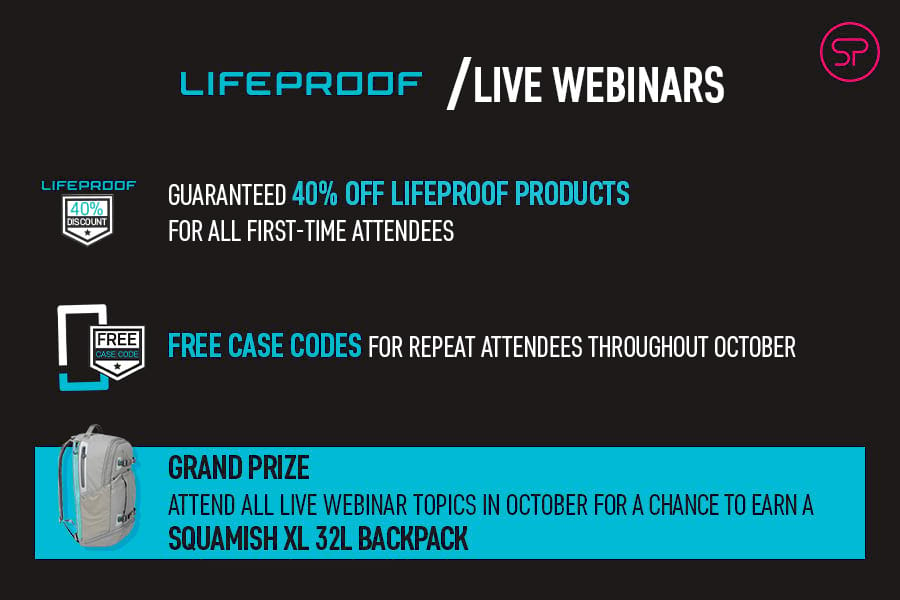 LifeProof Webinar Campaign
During October, participate in the LifeProof Webinar Campaign to learn from the experts and earn awards. Check out the details below.
Dates: 10/1/20 – 10/31/20
1. ALL first-time LifeProof webinar attendees earn a 40% LifeProof Discount Code. Be sure to register for your spot in-app because seats are limited to 200 attendees per webinar.
2. Attend webinars weekly for a chance to earn a FREE Case Code from LifeProof.
3. Grand Prize: attend all four (4) unique live webinar topics during October to be eligible to win a LifeProof Squamish XL 32L Backpack! For event dates and time, check the SellPro app. We will pull THREE random winners during the week of 11/2. The full list of webinar topics is below.
Wake
Next
Fre
LifeProof for the iPhone 12 Lineup
Please note: Courses and live webinars are available for the specific retailers to which the brand has exposed its content. If you aren't seeing them, it means the courses and/or webinars are not available to your retailer. Additionally, a SellPro account is required for live webinar award eligibility.