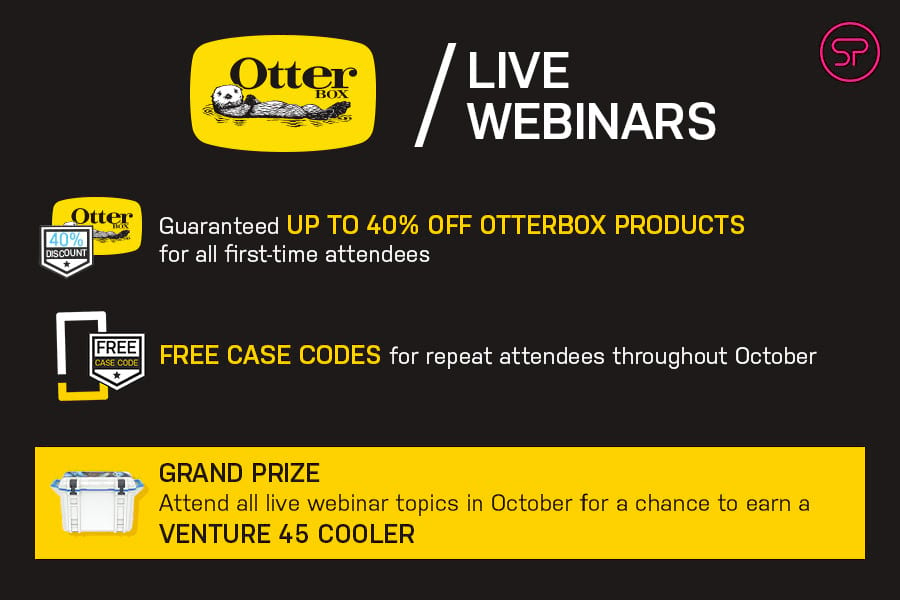 OtterBox Webinar Campaign
During October, participate in the OtterBox Webinar Campaign to learn from the experts and earn awards. Check out the details below.
Dates: 10/1/20 – 10/31/20
1. ALL first-time OtterBox webinar attendees earn a discount code for up to 40% off OtterBox Products. Be sure to register for your spot in-app because seats are limited to 200 attendees per webinar.
2. Attend webinars weekly for a chance to earn a FREE Product Code (up to $65) from OtterBox.
3. Grand Prize: attend all eight (8) unique live webinar topics during October to be eligible to win an OtterBox Venture 45 Cooler! For event dates and time, check the SellPro app. We will pull THREE random winners during the week of 11/2. The full list of webinar topics is below.
Amplify
Otter + Pop
Defender/Pro
Mobile Power
PhoneSoap
Strada
Otter Spots
OtterBox for the iPhone 12 Lineup
Please note: Courses and live webinars are available for the specific retailers to which the brand has exposed its content. If you aren't seeing them, it means the courses and/or webinars are not available to your retailer. Additionally, a SellPro account is required for live webinar award eligibility.