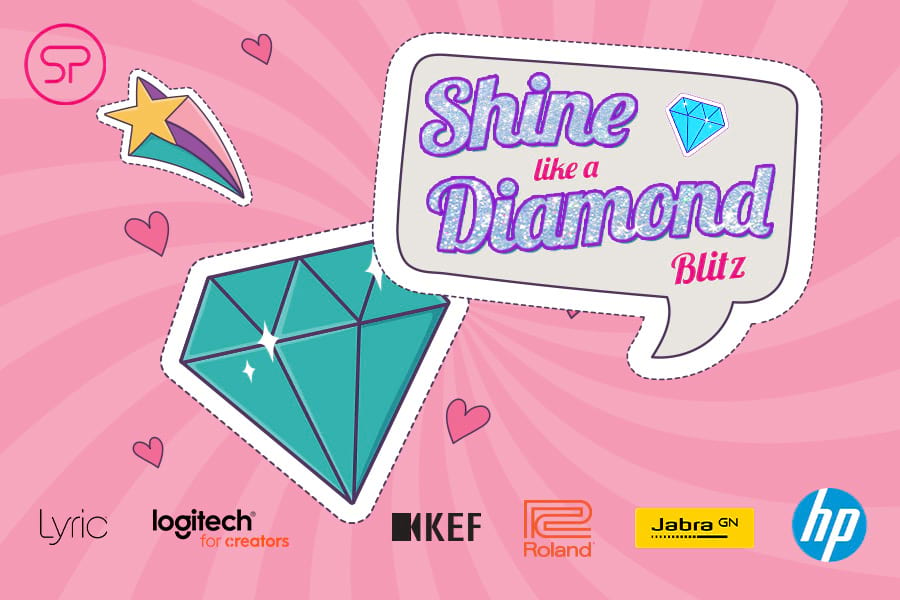 Shine like a Diamond Blitz
This week is dedicated to our shining stars – you! Join the Shine like a Diamond Blitz and earn awards from HP, Roland, KEF, Jabra, Logitech for Creators and Lyric. Head to the PlayZone for eGift cards, Mall Credits and products, don't miss out! Let's go over the details.
Dates: 4/4/22 – 4/8/22
To unlock the awards in the PlayZone, complete the following tasks from each brand:
HP
Courses:
Instant Ink: Overview
OMEN 40L Gaming Desktop PC
Award: $10 Starbucks reward

Roland
Courses:
Roland Pro AV V-8HD - 3 Things relaunch
Roland Pro AV VR-1HD - 3 Things relaunch
Roland Pro AV V-1HD - 3 Things relaunch
Award: $10 Amazon eGift card

KEF
Courses:
Welcome to KEF
Blade & Reference Meta
Award: 5 Mall Credits

Jabra
Courses:
Elite 4 Active - Immersive workout music
Elite 7 Series Verified Claims
Elite 4 Active / Elite 7 Active Step Up
Open Reference Library: Frequently Asked Questions
Award: $10 Chipotle eGift card
Logitech for Creators
Courses:
Find Your Light with Litra Glow
Make A Scene with Mevo Start
Raise Your Voice with Yeti Microphones
Events: attend one (1) Logitech for Creators event
Award: Litra Glow Kit

Lyric
Courses:
Lyric: So Much More Than a Massage Gun
Lyric: Product Introduction
Award: $10 Burger King eGift card

Tip: Some of the events aren't available at the same time as the campaign begins. We recommend registering for the events when the campaign begins and certifying on the required coursework in the meantime.
Please note: These awards are live in the PlayZone for the specific retailers to which the brand has exposed its courses. If you aren't seeing it, it means the award is not available to your retailer. Additionally, a SellPro account is required for live webinar award eligibility.