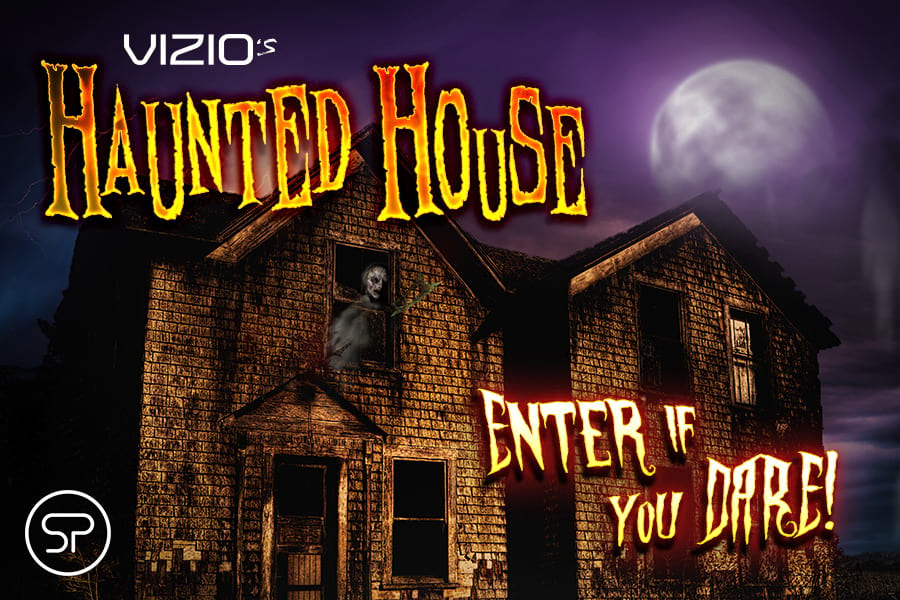 You're planning on going into VIZIO's Haunted House?! Are you crazy? The last person who was in the house never came back out. If you want to come back alive, you're going to need a plan. This is what I suggest…

When you go into the house, head straight up to the attic. I know it sounds crazy, but there are rumors that inside an old chest lies a…
*crash*
Did you hear that? Anyway, where was I? Oh, right, the attic. After you conquer the attic, head to the kitchen. You'll want to grab a weapon, maybe a knife or pan, just to be safe. If you open the fridge, DO NOT eat anything inside. This house has been abandoned for over 100 years so there can't be anything edible inside.
Oh, did I mention the baby? If you hear a baby crying, you'll want to check out the nursery, but don't touch the baby's teddy bear.
If you make it that far, then the only place left is the basement. Make sure you still have your weapon and head downstairs. Apparently, the owner hid something very valuable in a safe. If you find it, well, be prepared for anything. Like I said, the last person who went into that house never came back out…
Take this map with all the details. Good luck.

Courses:
VIZIO Sound Bars with Dolby Atmos®
Reviewed.com: 2019 P-Series Quantum X
Tom's Guide: 2019 M-Series Quantum
Haunted room and award:
10/22 - Attic: $5 Starbucks eGift card
10/24 - Kitchen: $5 Cold Stone eGift card
10/29 - Nursery: survive the kitchen to find out
10/31 - Basement: survive all the rooms to find out what's in the safe
Please note: These awards are live in the PlayZone for the specific retailers to which the brand has exposed its courses. If you aren't seeing it, it means the award is not available to your retailer.