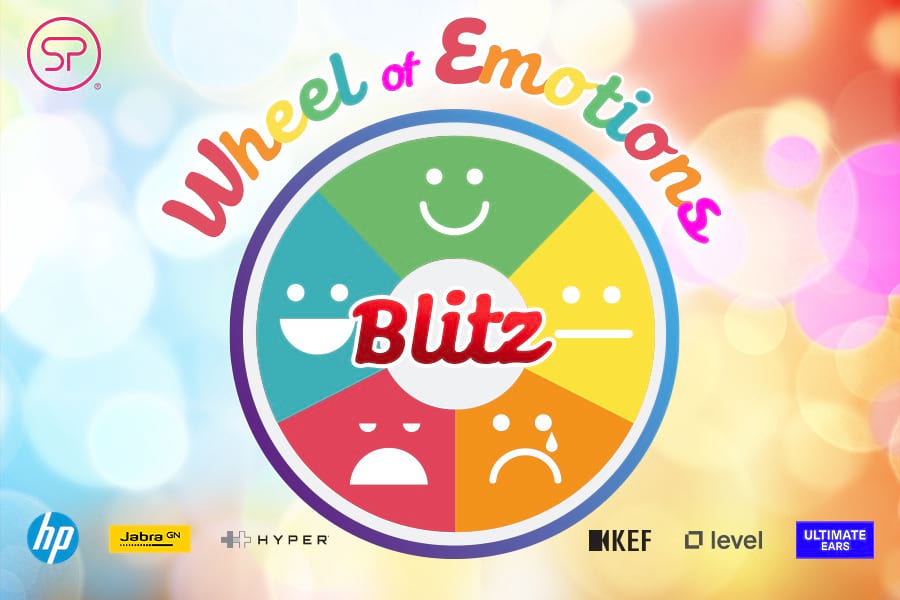 Happy, sad, angry – welcome to the Wheel of Emotions Blitz! We're embracing all human emotions this week and hope you experience joy in the PlayZone! Starting Wednesday, you can earn eGift cards, products and Mall Credits from HP, Jabra, Ultimate Ears, Level, HYPER and KEF. Let's go over the details.
Dates: 9/14/22 – 9/21/22
To unlock the awards in the PlayZone, complete the following tasks from each brand:
HP
Courses:
OfficeJet Pro 9015e & 9025e Printers
Chromebook 15.6 inch Laptop PC
Event: Attend one (1) HP event
Award: $10 GameStop reward

Jabra
Courses:
Elite 4 Active/Elite 7 Active Comparison
Elite 7 Pro - Compact & Comfortable
Elite 7 Series - Put to the Test
Open Reference Library: Brand Information
Award: $20 DoorDash eGift card

Ultimate Ears
Courses:
WONDERBOOM 3
ULTIMATE EARS COLLECTION
Event: Attend one (1) Ultimate Ears event
Award: Wonderboom 2

Level
Courses:
NEW Level Display Exclusive at Best Buy
Best Buy Product Assortment Update
Open Reference Library: Level Smart Lock Resources
Award: $10 Taco Bell eGift card

HYPER
Courses:
HyperDrive Dual 4K HDMI 10-in-1 USB Hub
HyperDrive 7-in-1 USB-C Hub Stand
Award: $5 Starbucks eGift card

KEF
Course:
Award: 5 Mall Credits

Please note: These awards are live in the PlayZone for the specific retailers to which the brand has exposed its courses. If you aren't seeing it, it means the award is not available to your retailer. Additionally, a SellPro account is required for live webinar award eligibility.